Recap: A Day in the Life of a UX Designer
Our first A Day in the Life event explored the role of a UX Designer. Some UX designers do a little bit of everything (concepting, information architecture, wireframing, prototyping, and usability testing) on a project, while others might specialize or lean more toward one area of the field.
Our guest speaker for this session was Emily Holmes, the Director of UX for R&D at Hobsons, Inc. Emily talked about her role as a UX Designer on an innovation team, where she walked us through a case study of a project she worked on over the course of a year and a half. Since her team is small, she wore many hats over the course of the project such as user researcher, UX design, usability testing, and even a bit of coding. If you like variety in work, being a generalist UX designer often gives you the flexibility to perform different activities.
Her team's approach leveraged the Lean UX method to concept, prototype, test, and iterate. For more on this methodology, Emily recommended these books:
The Lean Startup: How Today's Entrepreneurs Use Continuous Innovation to Create Radically Successful Businesses by Eric Ries
Lean UX: Applying Lean Principles to Improve User Experience by Jeff Gothelf and Josh Seiden
Below is the slide deck from Emily's presentation.
Activity
Following the presentation and Q&A session, we headed over to the Design Studio for the activity portion of the event. Part of Emily's process included
story mapping
, which is a method that illustrates the user's story through a product or site. It's beneficial because it allows the team to focus the users and their actions, rather than get distracted by feature issues and scope creep. For the activity, we tried out story mapping a user's journey with a fictitious company.
The fictitious company was Jumpr, a roadside assistance company, who you could contact from your smartphone if you needed help (e.g., flat tire, dead battery, etc.) We broke out into four groups and tried our hand at story mapping a user's journey (from requesting assistance, receiving the needed help, and paying for the service).
Here's the set up slide deck for the activity: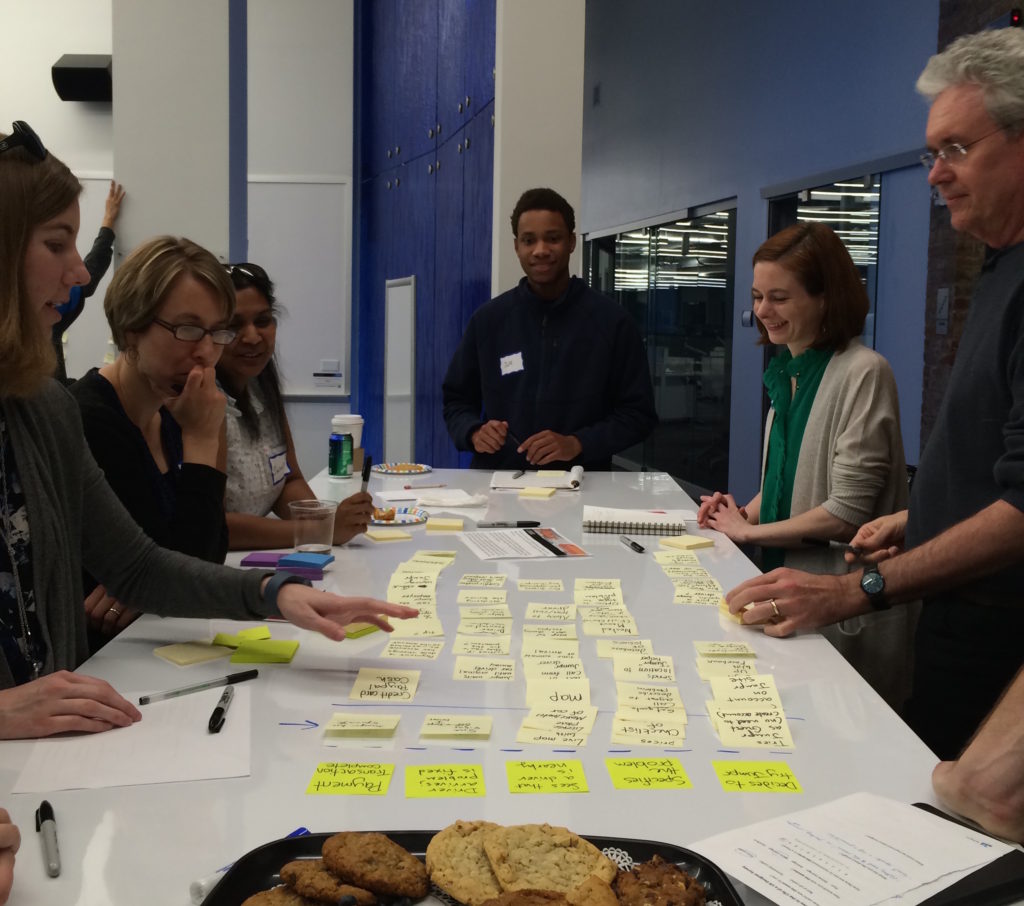 During the activity, there were a lot of really great discussions going on not only including what the user will experience, but also problem solving such as "What if Jumpr can't help the person?" or concerns about safety and liabilities. The discussions could have gone on for a lot longer, but it was getting late! At the end of the evening, we talked about the activity and what some big takeaways were. Some thought story mapping was a great way to get all the information out there from all different stakeholders, so everyone could be on the same page. It also helped determine and align priorities of what should be designed for the minimum viable product (MVP).
People enjoyed getting hands on with the activity; if trying out UX sounds like something you're interested in, come out to the A Day in the Life series. Each month we'll hear from a practitioner in UX role and try an activity to see what it's like to be in their shoes.