Transitioning to a UX Career Panel – Recap
For exploreUX's inaugural event, we held a panel discussion on transitioning to a UX career.  Here's a recap of the panel discussion from Sept. 17, 2013 in case you weren't able to attend, missed a few things, or needed links to the specific resources mentioned. This is mostly paraphrased. Thanks to those that asked and answered questions from the audience. Karen O'Donnell also provided a recap on her blog. If you have specific questions on transitioning to a UX career, feel free to post a comment below.
---
Panelists:
Andrew Wachholz
User Experience Strategist, Rock Creek Strategic Marketing
Virginia Moore
User Experience Strategist, Rock Creek Strategic Marketing
Margo Kabel
Program Analyst (UX)
Human Factors, Office of Informatics and Analytics, Dept of Veterans Affairs
Michelle Chin
User Experience Strategist, Rock Creek Strategic Marketing
Moderator:
John Totten
User Experience Practice Lead, Rock Creek Strategic Marketing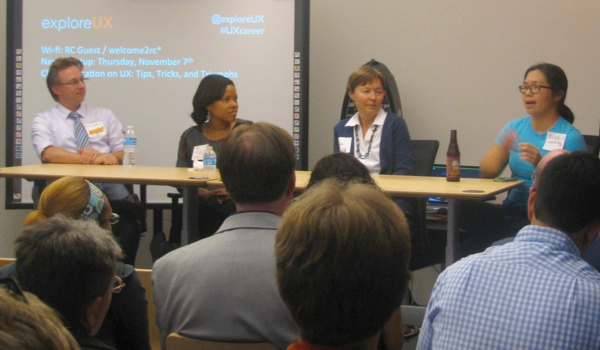 ---
How did you get into the UX field?
AW: Started doing traditional graphic design, but career has spanned the creative industry – interaction design, programming, interactive design, creative direction; made the natural progression from interaction design to why people interactive and what people are doing before/after.
VM: Fell into UX by accident – started in the communications field with a web team, worked as a subject matter expert (SME), was writing and contributing to content strategy and web content; became more involved with information architecture (IA), user testing.
MK: Worked on the IT side and consulted on the usability of sites, supporting acceptance rates, etc. Graduated with a master's in Interaction Design and Information Architecture (IDIA) from the University of Baltimore.
MC: Started as a graphic design, then did quality assurance testing realizing that UX was the best of both worlds. Also a grad from the IDIA program at the University of Baltimore.
---
What is the most challenge part of the UX field?
AW: Educating people on the process and what is UX. Blurred lines with clients – they look at you as a designer and consultant in development side.
MC: UX is new to clients, they have no concept of it so having to step back and explain it in really basic terms. Since it's new, they don't understand how all the legwork (research, interviews, etc.) relates until they see the wireframes.
VM: Wireframes – showing depictions because clients can read easily read reports about research, etc. But helping them understand wireframes is challenging.
MK: Having to do presentations to internal people and to clients since they don't know what we do.
---
What's the value of UX? (from audience)
AW: We design for an audience – so we help the client understand their audiences goals and objectives. We walk through what the audiences are looking for, searching, and need. We also sometimes uncover things that clients don't even want to know.
---
What are some complementary skills to have as a UXer?
MC: Knowing psychology and even understanding how to use persuasive design (a UX concept by B.J. Fogg) to explain what's valuable and makes sense – there's a lot of psychological things that come into play that I wasn't expecting to have to brush up on.
VM: An understanding of branding – while working on any website, there's a branding component. Knowing how to best communicate that.
MK: Speaking the language of whomever you're working with – whether it's developers or your clients like clinicians or veterans; Getting to know the subject to have the conversations and understanding their world. Listening skills are really important, too.
---
What is your ideal UX team and what is reality for you all? (from audience)
MC: We have a team at Rock Creek, but often the reality is that companies don't have a team, they're a UX team of one. At my previous employer I was a UX team of one and I really wanted to have the support of other UXers.
Audience member: As as UX team of one, network a lot and create a virtual team for support.
Rob Sharpe (audience): It's beneficial to be a team of one because you have to leap; you make make mistake and you build up from that. It also gives you multiple skill sets.
AW: The perfect team has vested individuals on your team, where communicating frequently is possible and helps with exploring new ideas.
VM: The ideal team can even be with people who aren't UXers, but understand UX well.
---
What UX book is on your bedside table or what's the "gateway drug" book into UX? (from audience)
MC: Don't Make Me Think by Steve Krug. I read it awhile ago when I was a graphic designer and it really spoke to me, "Yes, I can do this, I can design things better!"
MK: It's also a good book to suggest to clients since it's an easy read.
VM: Content Everywhere by Sara Wachter-Boettcher – content is everywhere whether on the web, displays on your fridge, etc.
AW: The Neilsen Norman Group blog (Jakob Neilsen's Alertbox); any of the A List Apart books (A Book Apart), Designing for Emotion
Dezzie Garcia (audience): A Project Guide to UX Design by Russ Unger and Carolyn Chandler
---
What are the skills you value in UX colleagues?
AW: Willingness to have an opinion, which is a valuable tool for everyone to have. Technical know-how is a huge benefit since it can help with designing.
VM: Timely advice – when we're at the IA stage, they give me IA-related advice (and not information about wireframing).
MK: Getting feedback from colleagues
MC: Everyone has different disciplines so they bring their knowledge to the table
---
How can you advance in the UX space?
AW: Being willing to make mistakes and learning from them. Developing a close relationship with developers – as a UXer I made a lot of assumptions, but knowing what they do has helped in my work.
MC: Specifically if you're trying to make the leap in transitioning to this field – incorporate UX work in your current job. Improve your UX skill set to have items to go into your portfolio, so you have the skills to transfer into a UX job.
MK: What also helps is showing the work you had an impact on, being able to show your contribution to the project.
---
Did you have to change companies to get the explicit UX title? (audience question)
MC: No, at my other job I was doing two other jobs in addition to UX work, and I left seeking a UX-only type job.
AW: My title came with a job transition. I had enough design experience but did two years of analysis before making the transition here.
VM: I had a boss that provided a lot of opportunities in user testing, where I was writing test plans, conducting tests, etc. I jumped more into UX work while at Rock Creek.
---
Is there any key software we should know? (audience question)
AW: Omnigraffle, Proty, Pop mobile app (Apple and Android) allows you to create a rough mobile app prototype.
JT: Fourth generation wireframing tools that are online subscription based, such as UX Pin (wireframes, clickable prototypes); Lucidchart; anything that diagrams (Illustrator, Axure to name a few others). Learn something that diagrams.
John Serrao (audience): For those with more of a developer background Twitter Bootstrap and Zurb Foundation is a great tool for digital prototyping. That's more in demand on the product side of software development.
---
When hiring for a new member of your UX team, what do you want to see in their portfolio? (from audience)
MC: That they can actually do the work. In my portfolio I have samples of wireframe sketches, whiteboard drawings. You need to show that you can do the process because the final screenshot doesn't show the effort that went into it – the wireframing, user testing, etc.
AW: Understanding the process – If you don't have the capability to do an entire website or you have one small part, show that you understand the process. Explain that you understand how this is all a part of the working team, which shows your willingness to work in those directions.
---
Which way should I go in my career? Job descriptions often say a UX designer with 3-5 years of UX experience including design, IA, content strategy, prototypes, wireframes – you can do everything. On the West Coast, UX roles are starting to be more specific – UX researcher, information architect, etc. Any advice on which way to go – specialize or generalize? (from audience)
AW: Jared Spool talks about this all-knowing "unicorn". Similar to when going to college, you take general classes, then specialize later on, specialize on after getting a wealth of info.
---
What areas are the most valuable if you had to pick one? (from audience)
MK: Depends on your interest. Understand the big picture and what you're most passionate about.
AW: If you have to have an answer – researcher. It influences the decisions to come forth since you're either proving or refuting one thing or another.
RS: Higher up within the chain of events, it depends on wealth, where you are in life, etc.
JT: No matter what field you go into, lots of jobs will list that you need to know a lot of things, which is logically based on what UX is. I don't know of anyone that wants to be a pure wireframer. If you're at the point of picking something specific, you need to evaluate if you're really code slanted, etc. Determine the questions you need to ask to lead you forward in developing a strategy. Your wallet can be affected depending on your speciality or location.
UX is breaking down into multiple fields; the more specialized you are could lead to different rewards. You could go into one, then into another as different ways to enhance your career.
AW: The Midwest marketplace is different than here. In the Midwest, they want the unicorn. On the East Coast there's a forgiveness factor, you don't have to know everything. You have it good here, it's cut-throat in Minneapolis. A better diversity of understading is your best basis.
---
Is quantitative or qualitative information more important? (from audience)
AW: Quantitative is valuable to have – it enhances your ability to compose and conduct research with an analytical mindset. The data helps state your case.
VM: If you don't know numbers, it's ok too. I work with smaller number and web metrics. It's not that we don't deal with numbers at all, but we deal with them on a smaller level.
AW: There are lots of books on assessing quantitative data from qualitative work, such as time/task complete rates. Jakob Neilsen talks a lot about research-based UX.
---
To get into the field, how can we get experience if we're not able to able to incorporate it at our current job? (from audience)
MK: Volunteer somewhere so you can fit the experience in.
MC: Make a website for your friend, a small business or non-profit. My friend used a UX book and did activities in it to use in her portfolio.
JT: Create your portfolio site, follow the guide and create it – UX yourself. Also reinterpret things – look at the work you've done through a UX lens. It could just be positioning a project in a different way.
VM: Look at a site or an app and tell them what's wrong, how would you fix it. Make your own analysis and set of recommendations. Invent something – if your audience was this, then what would you do?
JT: People into UX are into being told a story – where you are in life and how you pursued it. Have a story – they could be open to hearing about that and your journey.